Cargo bay
From Kerbal Space Program Wiki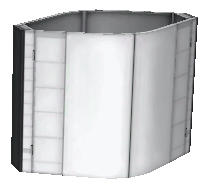 A cargo bay is a part which can contain other equipment.
The main use is to store unwieldy or unstackable parts (such as a small probe) within a larger structure. It doesn't shield the parts from aerodynamic drag (0.25[outdated]), currently. The size of the cargo bay cannot be used completely - the docking devices needs some place, and the room of the cargo bays has no regular shape.
To open and close the doors, right-click the cargo bay, and push the Open/Close button. Action groups can also can be used for this purpose; by employing the Toggle Bay Doors command, the doors can be opened and closed by a single keystroke.
List of cargo bays