Difference between revisions of "FL-R25 RCS Fuel Tank/hu"
From Kerbal Space Program Wiki
---
Latest revision as of 18:35, 17 March 2017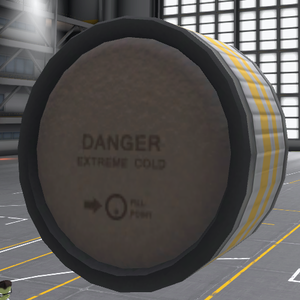 Az FL-R25 RCS Hajtóanyagtartály [FL-R25 RCS Fuel Tank] egy olyan alkatrész, amely egykomponensű hajtóanyagot tárol a különböző űreszközök RCS fúvókái számára.
Felhasználás
A hajtóanyagtartály egykomponensű hajtóanyagot biztosít a hajó RCS fúvókái számára, amelyek a kisebb helyzet és helyváltoztatásokhoz szükségesek. Ezeket a fúvókákat nem szükséges közvetlenül a tartályra helyezni. Ez a tartály leginkább a kisméretű űrhajókon és egyéb eszközökön használatos.
Mint minden hajtóanyagtartálynak, ennek is beállítható a műhelyekben a tárolt hajtóanyag mennyiség, illetve a felhasználható-tartalék állapota. Ez utóbbi természetesen a küldetések közben is megváltoztatható.
Termék leírása
| | | |
| --- | --- | --- |
| " | Ezek a hajtóanyagtartályok egykomponensű hajtóanyagot tárolnak az RCS fúvókák számára. Az új vezeték technológiának köszönhetően az RCS hajtóanyagvezetékek a hajó bármely pontjára elvezethetőek. Így a folyékony hajtóanyagtartályokkal ellentétben az RCS hajtóanyagtartályok bárhová elhelyezhetőek. | " |
 
Manned pods
Command seats
Probe cores
 
Beams, panels and radial elements
Launch assistance
Stackable elements
 
Fairings
Cargo bays
Service bays
 
Landing gear
Powered wheels
 
Sensors
Labs
Telescopes
Resource scanners
 
Command modules
Fuel tanks
Decouplers
Separators