Jet engine
From Kerbal Space Program Wiki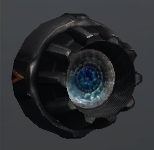 A jet engine is an air-breathing engine which uses onboard fuel and combusts it with the oxygen drawn from the atmosphere. Due to the lower air pressure at higher altitudes its thrust output varies accordingly.
List of Jet Engines
↑ The R.A.P.I.E.R. Engine is a combination of liquid fuel and jet engine. Only the jet engine properties are shown.
Usage
Unlike rocket engines, a jet draws oxygen from the atmosphere rather than taking it from an on-board tank. This is represented in-game by a much lower rate of fuel consumption. This engine cannot function effectively at a height of much more than 5km, but it is much more efficient to use jet engines in the lower atmosphere. Jet engines do not perform in the same manner as rocket engines. Since Jet engines rely on a turbine to compress fuel and atmosphere together in order to produce thrust, it takes time to change speed. Also if the throttle is too low the engine will stall. By contrast, rocket engines give instant response to control input.
Currently, jets do not require you to fit air intakes to your spacecraft and function independently of whether you use a fan intake or not.
Advantages of Jet Engines
Provides excellent fuel efficiency within an atmosphere
All current jet engines provide thrust vectoring for greater maneuverability
Excellent power to weight ratio
Disadvantages of Jet Engines
Cannot be used outside of an atmosphere that contains oxygen. In current version, it means they only function on Kerbin and Laythe.
Thrust output changes depending on altitude
Engine requires time to spool up to maximum thrust potential
 
Manned pods
Command seats
Probe cores
 
Beams, panels and radial elements
Launch assistance
Stackable elements
 
Fairings
Cargo bays
Service bays
 
Landing gear
Powered wheels
 
Sensors
Labs
Telescopes
Resource scanners
 
Command modules
Fuel tanks
Decouplers
Separators