LV-T30 "Reliant" Liquid Fuel Engine/ru
From Kerbal Space Program Wiki
ЖРД LV-T30 «Факел»

Двигатель на жидком топливе от
Jebediah Kerman's Junkyard and Spacecraft Parts Co

Размер
Маленький
Стоимость
(полная)
1 100,00 
Масса
(полная)
1,25 т
Аэродинамическое сопротивление
0.2
Макс. температура
2000 К
Volume
 ?
Допустимое усилие
7 м/с
Исследования
 Общее ракетостроение
Стоимость разработки
3 200 
С версии
0.7.3
Конфигурация модуля
liquidEngineLV-T30.cfg

Двигатель на жидком топливе
Макс. тяга
(1 атм)
205,16 кН
(Вакуум)
240,00 кН
Iпуст
(1 атм)
265 с
(Вакуум)
310 с
Расход топлива
15,79 /с




Управление вектором тяги
Нет
ЖРД "LV-T30" (англ. "LV-T30 Liquid Fuel Engine") - это первый ЖРД, доступный в режиме карьеры. Это - двигатель, который требует топлива от внешних баков жидкого топлива, и он либо должен быть установлен ниже баков, либо быть связанным с ним при помощи топливной линии.
Использование
Двигатель "LV-T30" - первый двигатель на жидком топливе с управляемым дросселем. This makes it very useful for precise, controlled maneuvers and conserving fuel. They are not placeable on Radial Decouplers and are typically reserved as a main engine after liftoff. The LV-T30 must be directly below a non-empty liquid fuel tank to produce any thrust.Even after introduction of the gimballing LV-T45 Liquid Fuel Engine, more powerful LV-T30 remained the best solution for the parts where power is more important than controllability, like the first liquid stage (however, in this case winglets or gimballing engines of a parallel stage are necessary for controlling the rocket)
Описание изделия
| | | |
| --- | --- | --- |
| « | Although criticized by some due to it's not unsignificant use of so-called "pieces found lying about", the LV-T series has proven itself as a comparatively reliable engine. The T30 model boasts a failure ratio below the 50% mark. This has been considered a major improvement over previous models by engineers and LV-T enthusiasts. |  » |
Изменения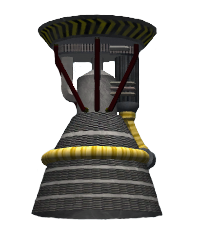 Вырабатываемая электроэнергия возросла до 7.0;
Изменение текстур и решетки;
Добавлен генератор переменного тока, двигатель теперь выдает 1.0 электроэнергии;
Изменение основного файла CFG (добавлено Isp прежде всего);
(Исправление ошибок) Эффект частиц ЖРД, отвечающий за выключение двигателя;
Первоначальная публикация.
 
Пилотируемые отсеки
Внешние командные кресла
Корпусы зондов
 
балки, панели и радиальные элементы
Вспомогательные Пусковые Системы
Стыковочные устройства
 
Fairings
Cargo bays
Service bays
 
Посадочное шасси
Шасси с силовым приводом
 
Датчики
Labs
Telescopes
Resource scanners
Storages
 
Storages
Equipment
Осветительные приборы
 
Командные отсеки
Топливные баки
Отделителей
Отделителей
,,