Difference between revisions of "Mk1 Lander Can/hu"
From Kerbal Space Program Wiki
---
Revision as of 20:17, 27 August 2014

Az Mk1 Leszállókabin [Mk1 Lander Can] egy kabin amely egy kerbálnyi legénység befogadására képes a küldetések során. A leszállások megkönnyítéséhez olyan lefelé néző ablakokkal tervezték meg, amely kitűnően megfelel az ilyen küldetésekhez.
Felhasználás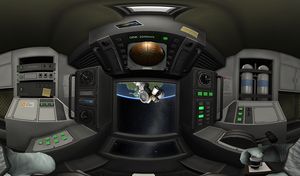 ]]
Ez egy kisebb méretű kabin, mint az Mk2 Leszállókabin, és azzal ellentétben csak egyetlen kerbálnak biztosít helyet. Ahogy a neve is sugallja elsősorban a leszállóegységek számára készült, viszont a szükséges műszerek, a navigációs gömb, a radar-magasságmérő és a függőleges sebességmérő a kabinban össze-vissza lettek elhelyezve, ezért ezzel a kabinnal belső nézetben végrehajtani a leszállást nem ajánlatos. Viszont ez a legkönnyebb kabin, és olyan küldetések esetén, amelyek sok Δv-t igényelnek, igen csak jól jöhet az alkalmazása. A sima nyolcszögletű felszínére könnyen elhelyezhetőek a hajtóművek és a leszállólábak. Ezen felül a könnyű kialakítás gyenge, törékeny szerkezettel párosul, erre ügyelni kell.
Ennek a kabinnak a felszereltsége kis leszállóegységekhez idomul, a reakciós kerekei csak egy apróbb méretű leszállóegység irányításához elegendőek. Hasonlóan a 50 egységnyi elektromos töltés és 15 egységnyi egykomponensű hajtóanyag készlete is csak egy kisebb leszállóegységnél teszi lehetővé, hogy egy gyakorlott pilóta végrehajthassa egy egyszerűbb küldetés leszállás, felszállás, és a csatlakozás műveleteit.
Ez a leszállóegységnek, mint minden tárolóképességgel rendelkező alkatrésznek, a műhelyekben ennek is beállítható a tárolt erőforrások mennyisége, illetve a felhasználható-tartalék állapota. Ez utóbbi természetesen a küldetések közben is megváltoztatható. A hosszabb küldetések esetében, különösen ha a leszállóegység belső energiatárolóját tartalékra állítjuk, gondoskodjunk róla, hogy az általa vezérelt űreszköz rendelkezzen megfelelő telepekkel, valamint természetesen áramfejlesztő egységekkel.
Termék leírása
| | | |
| --- | --- | --- |
| " | Ezt a kapszulát a könnyűsúlyú légkörmentes leszállóegységekhez tervezték, és egyetlen ülése van. Újfajta, teljes testre kiterjedő gyűrődési technológiával. | " |
Érdekességek
 
Manned pods
Command seats
Probe cores
 
Beams, panels and radial elements
Launch assistance
Stackable elements
 
Fairings
Cargo bays
Service bays
 
Landing gear
Powered wheels
 
Sensors
Labs
Telescopes
Resource scanners
 
Command modules
Fuel tanks
Decouplers
Separators