Difference between revisions of "SP-W 3x2 Photovoltaic Panels/hu"
From Kerbal Space Program Wiki
---
Latest revision as of 17:55, 29 April 2015

Az SP-L 2x3 Fotovillamos Tábla [SP-W 2x3 Photovoltaic Panels] egy közepes méretű kibontható napelemcsomag. Az OX-4W/L-lel ellentétben, az SP-W/L erős védőborítást kapott. A borításon egy kis sárga matricán ez olvasható: "WARNING: THIS THING MOVES", azaz "VIGYÁZAT: EZ A DOLOG MOZOG".
Felhasználás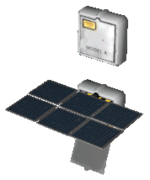 Az SP-W egy 2×3-os elrendezésbe bontja ki a napelemeket. Ezekből a védőborítással ellátott napelemekből szintén van egy SP-L 1x6 változat, 1x6-es elrendezéssel. Ezek a napelemek csak kibontott állapotukban és direkt napfényben termelnek elektromos áramot. A táblák üzembe helyezéséhez a jobb-klikkre felugró menüben az Exted Panels (Táblák Kinyitása) becsukásához a Retract Panels (Táblák Bevonása) gombra kell klikkelni. Ugyanez elvégezhető cselekvéscsoportok segítségével is - sőt ilyenkor a Toggle Panels (Táblák Kapcsolása) felhasználásával egyetlen billentyű nyomkodásával is lehet a táblákat kibontani és bevonni.
A napelem által termelt áram mennyisége függ a Kerboltól való távolságtól, és a táblák helyzetétől. Ez a napelemcsomag önműködően beáll az ideális irányba, de még így sem biztosítja minden esetben a Kerbin távolságára előírt 2 egység/másodperc mennyiséget (a jármű beárnyékolja, stb.)
Ezek a táblák kibontott állapotban igencsak sérülékenyek, kisebb ütődés vagy az enyhébb menetszél is letépheti ezeket. Emiatt az égitesten kibontott elemekkel csak finoman és óvatosan szabad mozogni, máskülönben be kell húzni ezeket a mozgás előtt.
Termék leírása
| | | |
| --- | --- | --- |
| " | A Probodobodyne márkájú Fotovillamos Táblák a világszínvonalat jelentik az energiatermelésben, a saját otthonodtól a csillagokig. Az SP modell védőborítással érkezik, lehetővé téve a bevonást, ha már nincs rá szükség. | " |
 
Manned pods
Command seats
Probe cores
 
Beams, panels and radial elements
Launch assistance
Stackable elements
 
Fairings
Cargo bays
Service bays
 
Landing gear
Powered wheels
 
Sensors
Labs
Telescopes
Resource scanners
 
Command modules
Fuel tanks
Decouplers
Separators