Solid rocket booster
From Kerbal Space Program Wiki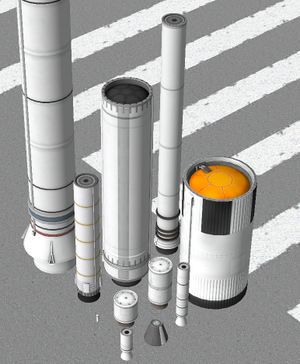 A Solid rocket booster, abbr. SRB, sometimes simply called solid booster, is a rocket engine powered by solid fuel. SRBs incorporate engine and fuel in a single part. Once ignited, they cannot be shut down or throttled and will burn at maximum thrust until their entire internal fuel supply is spent. Since solid fuel cannot be transferred between parts, a burnt-out solid booster cannot be reignited. Using tweakables you can decrease the amount of solid fuel in the booster or limit the amount of thrust at launch and thus decrease the burn time or twr.
Compared to other rocket engines, solid rocket boosters offer a high thrust-to-weight ratio, but low specific impulse (fuel efficiency). Therefore they are typically used in the first stage of a rocket when the thrust is needed to get an initially heavy rocket off the ground. Boosters are usually mounted on radial decouplers so they can be jettisoned as soon as they burn out.
Available parts
The following table provides an overview of all SRBs in KSP.
See also