Stock craft
From Kerbal Space Program Wiki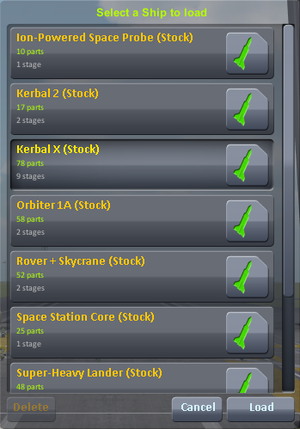 A stock craft is a pre-built craft that comes with KSP. Stock craft cannot be overwritten or added in-game and are shared across save games. Stock craft can be added outside the game, like some mods do. Although those additional craft also have the (Stock) suffix, they most likely use mod parts and can't be used without the mod. Stock craft are not available in career and science mode unless allowed by a difficulty setting (enabled in Easy mode).
The Stearwing D45 was removed in KSP 1.1 and was replaced with Skywinder AE1.
All craft's readiness should be checked. For example the Ravenspear Mk1's ladders are useless because they are obstructed. Other craft lack ladders. The Aeris 4A also had an incomplete action group setting before version 0.21.
See also