FL-R120 RCS Fuel Tank/de
From Kerbal Space Program Wiki
Der FL-R25 RCS Fuel Tank ist ein RCS-Treibstofftankder Grösse 1 mit einer Kapazität von 250 Einheiten
Verwendung
Der FL-R25 garantiert die Treibstoffversorgung sämtlicher am Raumfahrzeug angebrachter RCS-Thruster. Es ist nicht nötig die Thruster direkt am Treibstofftank anzubringen. Sind mehrere RCS-Treibstofftanks verbaut, wird der in der untersten Stufe zuerst aufgebraucht, um die Gefahr zu vermindern, dass noch komplett volle Tanks abgeworfen werden. Änlich verhält es sich bei radial verteilten Tanks. In so einem Fall werden die äusseren Tanks zuerst angezapft und erst wenn die äussersten Tanks leer sind werden diejenigen verwenden welche sich weiter innen befinden.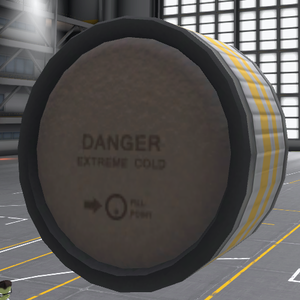 Produktbeschreibung
"
These fuel tanks monopropellant for RCS thrusters. New advances in plumbing technology made it possible to route RCS lines to any point in the ship. So unlike liquid fuel tanks, RCS Fuel tanks can be placed anywhere.

"
"
Dieser RCS-Treibstofftank garantiert die Versorgung von RCS-Thruster. Kürzlich erzielte Fortschritte beim Verlegen der Treibstoffleitungen machen es nun möglich die RCS-Leitungen zu jeder beliebigen Stelle im Raumschiff zu verbauen. RCS-Treibstofftanks können nach belieben platziert werden.

— Jebediah Kerman's Junkyard and Spacecraft Parts Co

"
Änderungen
RCS-Treibstoffvorrat erhöht von 100 auf 250
RCS-Treibstoffvorrat erhöht von 25 auf 100, Beschreibung geändert.
Neue Textur, RCS-Treibstoffvorrat verringert von 200 auf 25
Gesamtmasse verringert von 0.9 auf 0.5, Trockenmasse von 0.15 auf 0.1, Treibstoffkapazität von 250 auf 200
RCS-Treibstoff wird jetzt gleichmässig verbraucht, wenn die Tanks mit dem Symetrietool platziert wurden.
 

Bemannte Kapseln
Sitze
Sonden
 

Streben, Platten und radiale Elemente
Starthilfen
Stapelbare Elemente
 

Verkleidungen
Frachtraum
Service-Buchten
 

Ruder
Feste Flügel

Bugnasen
Ansaugvorrichtung
 

Fahrwerk und Landestützen
Antriebsräder
 

Sensoren
Labore
Teleskope
Ressource Scanner
Lagerung
 

Lagerung
Equipment
Deployables
 

Kommandomodule
Treibstofftanks
Entkoppler
Separatoren