FL-R120 RCS Fuel Tank/zh-cn
From Kerbal Space Program Wiki
这款FL-R25 RCS燃料箱存放飞船的单组元推进剂.
用法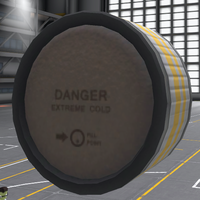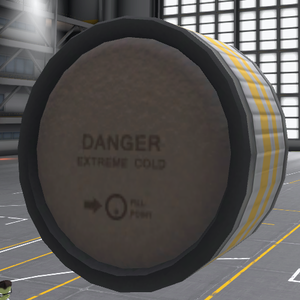 油箱为飞船上所有RCS推进器提供燃料. 无需将推进器直接放在油箱上. 如果有多个RCS油箱,则将首先使用最下面的油箱,以避免抛弃满油的油箱,同时保留空油箱. 同样,RCS储罐从外部径向排空. 在一个分级中, 径向位置优先于垂直位置.
产品描述
"
这些油箱存储用于RCS推进器的单组元推进剂. 管道技术的新进展使RCS线路可以传输到飞船上的任何地方. 所以不像液体燃料箱, RCS油箱可以放在任何地方.

— Jebediah Kerman 废品回收和飞船部件公司

"
Comparison
Prior to version 0.90.0, somewhat counter-intuitively, two FL-R10 RCS Fuel Tank contained the same amount of monopropellant as a single FL-R25, yet saved 0.05 units of dry mass. The smaller tanks can also be placed radially, which made them the better choice for nearly all applications. Since v0.90.0, the FL-R25 holds slightly more than three times as much monopropellant, with similarly greater mass, edging out the equivalent in FL-R10 by 0.006 units, saving about 0.5% overall.
Changes
Increased tech cost from 2400 to 4600
Decreased cost from 600 to 330
Decreased mass from 0.15 to 0.08
Monopropellant supply decreased from 250 to 120
Monopropellant supply increased from 100 to 250
Capacity increased to 100, description changed.
Retextured, capacity decreased to 25
Due to part rebalancing, mass reduced from 0.9 to 0.5, empty mass from 0.15 to 0.1, fuel units from 250 to 200 (This does make the name slightly less meaningful)
RCS Fuel Tanks now drain symmetrically if placed using symmetry.