Mission Control/ko
From Kerbal Space Program Wiki
Mission Control


KSC building

단계 3

| | |
| --- | --- |
| | |
| 단계 1 | 단계 2 |

위치
 커빈 (Kerbin)
 Kerbal Space Center
고도
67 미터
버전 이후
0.22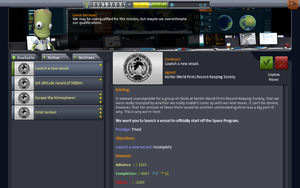 작전통제소[1]는 직사각형 모양의 대칭형 건물로 조립동과 활주로사이에 있습니다. 건물 양쪽에 있는 계단으로 오르내릴 수 있지만, 막다른 길입니다.

진 커만Gene Kerman​이 이끄는 인력으로 운영되며, 계약을 체결하거나 살펴볼 수 있습니다. 0.24 이전에는 사용이 불가능했었습니다. The name was only retrieved by colliding parts into it and then checking the log.

내부는 작전통제소와 유사하며 공식 비디오 "At the Kerbal Space Center"에서 볼 수 있습니다. 건물 외관은 미항공우주국(NASA)의 발사 통제소와 유사합니다.
연혁
주석
↑

미항공우주국의 발사통제소와 유사하다는 설명이 있어 명칭도 유사하게 번역했습니다. 우주여행이나 발사체의 발사 등의 임무내지 작전을 종합적으로 관리하고 통제하는 기능을 하기에 기능적으로도 맞지 않나 싶군요. 좀 더 직관적인 명칭이 있다면 수정하시기 바랍니다.