Mk1 Lander Can/de
From Kerbal Space Program Wiki
Das Mk1 Lander Can-Kommandomodul bietet Platz für einen Kerbal. Sie wurde für Landungsschiffe entworfen und bietet dafür ein Fenster, das nach "unten" ausgerichtet ist.
Verwendung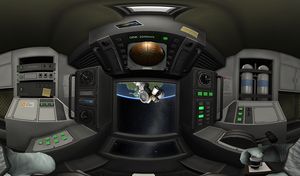 Die Kapsel stellt so was wie den "kleinen Bruder" des Mk2 Lander-can-Kommandomoduls dar. Wie der Name andeutet, eignet sich sie sich insbesondere für Landungsschiffe. Die geraden vertikalen, im Achteck angeordneten Außenwände machen es leicht, andere Module radial zu befestigen. Das können zum Beispiel Triebwerke, Sensoren oder auch Solarzellen sein.
Das Modul bieten oben und unten jeweils einen kleinen Befestigungspunkt.
Das Kommandomodul ist im Vergleich zum Mk1-2 Command Pod deutlich zerbrechlicher. Bei Landevorgängen sollte darauf geachtet werden - insbesondere dann, wenn Landungsbeine abgebrochen sind.
Beschreibung
"
This capsule was designed for lightweight non-atmospheric landers, and seats a single occupant. Features a novel full-body crumple-zone technology.

— Jebediah Kerman's Junkyard and Spaceship Parts Co.

"
Übersetzung: "Diese Kapsel wurde für leichtgewichtige Lander im atmosphärenlosen Raum entwickelt und bietet Platz für eine Person. Es zeichnet sich durch eine Ganzkörperknittertechnologie aus."
Trivia
In der Innenansicht kann man ein Bild von Kerbin über dem Pilotensitz sehen.
Es gibt zwei Notizzettel in der Kabine:
Über dem Kontrollpanel über dir
Anzeige im Spiel
Übersetzung
Reminder:


Close the hatch!
And don't forget the snacks

Erinnerung:


Schließ die Luke!
Und vergiss die Knabbereien nicht.
Linke Kabinenseite unter ein paar Knöpfen
Anzeige im Spiel
Übersetzung
Software glitch


Update before flight
DONT FORGET

Softwarefehler


Vor dem Start aktualisieren
NICHT VERGESSEN
Eine Liste mit Startvorbereitungen hängt rechts in der Kabine.
PRE-FLIGHT CHECKLIST


[] Get permission to use ship
[] Turn off oxygen
[] Check for missing parts
[] Tighten loose screws
[] Sit in chair
[] Turn on ship systems
[] Check fuel reserves
[] Check snack levels
[] Run system diagnostics
[] Check radio contact
[] Engage SAS
[] Remember EVA Helmet
[] Close Airlock Hatch


LISTE DER STARTVORBEREITUNGEN


[] Nach Erlaubnis fragen, das Schiff zu verwenden
[] Sauerstoff ausschalten
[] Nach verlorenen Teilen suchen
[] Lockere Schrauben festziehen
[] Im Sitz platznehmen
[] Schiffssysteme einschalten
[] Treibstoffreserven überprüfen
[] Knabbereireserven überprüfen
[] Systemdiagnose durchführen
[] Funkverbindung testen
[] SAS aktivieren
[] EVA-Helm nicht vergessen
[] Luftschleuse schließen

Änderungen
Erstes Erscheinen im Spiel
 

Bemannte Kapseln
Sitze
Sonden
 

Streben, Platten und radiale Elemente
Starthilfen
Stapelbare Elemente
 

Verkleidungen
Frachtraum
Service-Buchten
 

Ruder
Feste Flügel

Bugnasen
Ansaugvorrichtung
 

Fahrwerk und Landestützen
Antriebsräder
 

Sensoren
Labore
Teleskope
Ressource Scanner
Lagerung
 

Lagerung
Equipment
Deployables
 

Kommandomodule
Treibstofftanks
Entkoppler
Separatoren