Mk1 Lander Can/fr
From Kerbal Space Program Wiki
Le Mk1 Lander Can est un module de commande qui peut contenir 1 Kerbal. Il est recommandé pour les landers, et a une fenêtre donnant vers le bas.
Utilisation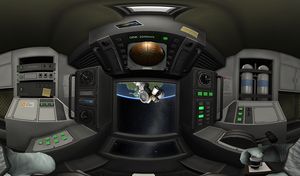 C'est une version plus petite du Mk2 Lander-can, qui lui, accepte deux Kerbals. Comme son nom l'indique, il est très pratique pour les landers grâce à sa large vitre qui offre une vue précise sur le sol. Les surfaces plates et octogonales à l'extérieur offre de l'espace pour y attacher des instruments, moteurs ou pieds d'atterrissage. Il est aussi très fragile, ce qui rendra les atterrissages plus difficile et demandera plus d'attention. C'est aussi le plus fragile de tous les pods habitables du jeu, ce qui est pratique quand vous devrez acquérir de la vitesse.






Description in-game
«
Cette capsule a été conçue pour les landers non-atmosphériques petits et légers, et peut être occupé par un astronaute. Features a novel full-body crumple-zone technology.Traduction nécessaire

— Jebediah Kerman's Junkyard and Spaceship Parts Co.

 »
Bagatelles
Il y a une photographie de Kerbin au-dessus de la fenêtre du pilote.
Il y a deux post-it dans la cabine:
«
Reminder:


Close the hatch!
And don't forget the snacks

(Ferme la trappe ! et n'oublie pas les snacks)

— Sur le panneau de contrôle

 »
«
Software glitch


Update before flight
DONT FORGET

(Bug de logiciel. Mettre à jour avant le vol. N'OUBLIE PAS

— Sur votre gauche, sous des interrupteurs

 »
Une liste d'action à réaliser avant vol (sur votre droite).
«
PRE-FLIGHT CHECKLIST


[] Get permission to use ship
[] Turn off oxygen
[] Check for missing parts
[] Tighten loose screws
[] Sit in chair
[] Turn on ship systems
[] Check fuel reserves
[] Check snack levels
[] Run system diagnostics
[] Check radio contact
[] Engage SAS
[] Remember EVA Helmet


[] Close Airlock Hatch


— Liste d'action avant la mission

 »