Mk1 Lander Can/it
From Kerbal Space Program Wiki
La Capsula di atterraggio Mk1 è un Modulo di comando che ospita un massimo di un membro dell'equipaggio Kerbal durante la sua missione. La cabina di pilotaggio nel modulo di comando è progettata per l'atterraggio e ha una finestra che guarda in basso per facilitare tali attività mentre si pilota dall'interno del lander.
Descrizione Prodotto
«
Questa capsula ospita un singolo passeggero ed è stata progettata per i lander, apparecchi leggeri da atterraggio concepiti per funzionare in assenza di atmosfera. Una delle sue caratteristiche più notevoli è la tecnologia che permette un accartocciamento completo della struttura portante.

— Discarica e parti per avionica di Jebediah Kerman

 »
Utilizzo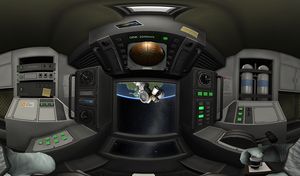 La Capsula di atterraggio Mk1, come suggerisce il nome, è una scelta eccellente da utilizzare come parte base sia per un lander lunare che planetario. Questo modulo di comando ha due grandi finestre, una rivolta verso l'esterno del sedile del pilota e una angolata verso il basso per permettere al pilota di vedere il terreno che si avvicina durante l'atterraggio. All'esterno della scatola del lander, le superfici piatte ottagonali permettono un fissaggio sicuro dei motori radiali, del carrello di atterraggio, dell'attrezzatura scientifica o di qualsiasi altra attrezzatura necessaria. Sia la superficie superiore che quella inferiore del lander sono adeguate per installare motori, serbatoi di carburante, serbatoi RCS o anche una docking port.
La Capsula di atterraggio Mk1 è più leggera della Capsula di comando Mk1, quindi è necessario meno carburante per l'atterraggio. Inoltre, immagazzina il 50% in più di monopropellente, rendendo il docking più facile.
Anche se la descrizione del pezzo ritrae la Capsula di atterraggio Mk1 come molto fragile, in realtà è abbastanza resistente, con una tolleranza all' impatto di 12 m/s. Dato che altre parti (come i motori e i serbatoi di carburante) hanno tolleranze di 7 o 8 m/s, il lander può probabilmente sopravvivere ad atterraggi difficili che danneggiano queste parti più fragili. Tuttavia, la tolleranza all'impatto della Capsula di atterraggio Mk1 è ancora inferiore alla maggior parte delle altre capsule di comando, essendo inferiore a tutte tranne che al Modulo Cupola PPD-12 (8 m/s) e al Sedile di Comando Esterno EAS-1 (6 m/s).
Il principale svantaggio della Capsula di atterraggio Mk1 è la sua forma grande e non aerodinamica, che lo rende inadatto all'uso atmosferico. Poiché non è cilindrica come le altre parti da 1,25 m, produce molta resistenza. Inoltre, la sua forma implica che non può essere protetta da uno Scudo termico (1,25m), poiché i lati esposti non si inseriscono dietro lo scudo termico.
La Capsula di atterraggio Mk2 è un aggiornamento rispetto alla Mk1, la cui massa è più che raddoppiata e può ospitare due membri dell'equipaggio Kerbal. Anche se a volte ingombrante e pesante, due Capsule di atterraggio Mk1 collocate l'una sopra l'altra possono ancora mantenere una massa e un costo minore rispetto alla Mk2. Con questa opzione, due membri dell'equipaggio in totale (uno in ogni abitacolo del lander) sono schierabili in una configurazione più leggera ed economica senza dover utilizzare la più grande Capsula di atterraggio Mk2.
Pro and Contro
Pro:
Estremamente leggera.
Eccellente scelta del modulo di comando per veicoli di atterraggio più piccoli
Costo economico, facile per i primi esploratori senza molti fondi.
Superfici multiple per collegare il carrello di atterraggio, i motori, i serbatoi di carburante, gli strumenti di comunicazione e le attrezzature scientifiche
La configurazione della finestra permette al pilota in prima persona di vedere il terreno dall'interno durante l'atterraggio
Contro:
Può contenere un solo membro dell'equipaggio Kerbal.
Le piccole dimensioni lo rendono facile da sovraccaricare di attrezzature
Non aerodinamico e non adatto al rientro
Trivia
«
Ricorda:
Chiudi il portello!
E non dimenticare gli snack

— Sul pannello di controllo sopra di te

 »
«
Errore del software
NON DIMENTICARE
di aggiornare prima del volo

— Sul lato sinistro sotto alcuni interruttori

 »
Una lista di controllo prima del volo è appesa sul lato destro della cabina.
«
PRE-FLIGHT CHECKLIST


☐ Ottieni il permesso di usare la nave
☐ Spegni l'ossigeno
☐ Controlla le parti mancanti
☐ Stringi le viti allentate
☐ Siediti sulla sedia
☐ Accendi i sistemi della nave
☐ Controlla le riserve di carburante
☐ Controlla i livelli degli snack
☐ Esegui la diagnostica di sistema
☐ Controllare il contatto radio
☐ Attivare il SAS
☐ Ricorda il casco EVA


☐ Chiudi il portello della camera d'equilibrio


— Lista di controllo prima del volo

 »
There is a sign saying "RISK OF ELECTRIC SHOCK. WARRANTY VOID IF OPENED" on what seems like a fuse box.
Changes
Aumentato il crashTolerance da 8 to 12
 

Moduli con Equipaggio
Sedili di Comando
Unità Sonda
 

Travi, pannelli ed elementi radiali
Assistenza al lancio
Elementi impilabili
 

Carenature
Stive
Scaffali di Servizio
 

Carrelli d'atterraggio
Ruote motorizzate
 

Sensori
Laboratori
Telescopi
Scanner per risorse
Stoccaggio
 

Stoccaggio
Equipment
Deployables
 

Moduli di Comando
Serbatoi
Disaccoppiatori
Separatori