SC-9001 Science Jr/de
From Kerbal Space Program Wiki
Der SC-9001 Science Jr. (im Spiel manchmal auch als Material Bay oder Materials Bay bezeichnet) kann genutzt werdne um Wissenschaftspunkte zu gewinnen indem man mit ihm wissenschaftliche Experimente im Weltraum oder auf anderen Himmelskörpern durchführt. Im Karrieremodus ist der Science Jr. auf Level 4 des Tech Trees zu finden in der Kategorie Science Tech
Verwendung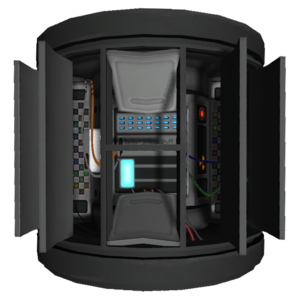 Der SC-9001 kann nicht mehrfach benutzt werden, ausser er wird durch ein funktionstüchtiges Mobile Processing Lab MPL-LG-2 oder einen Kerbal scientist nach gebrauch gereinigt.
Durch seine grösse und Form (Grösse 1) eignet er sich gut um andere wissenschaftliche Sensoren an seinem Rücken anzubringen.
Die Messungen sind nur Biome spezifisch auf der Oberfläche eines Himmelskörpers. Ansonsten reicht eine Messung für einen ganzen Bereich eines Himmelskörpers. (Beispielsweise "In orbit high" und "In orbit low" ist jeweils nur eine einzige Messung, es spielt keine Rolle welche Biome man gerade überfliegt.)
Produktbeschreibung
"
The SC-9001 is a cutting edge, self contained laboratory. Have you ever wondered what happens to something in zero G? Or, have you ever pondered the truly meaningful questions? Such as what would happen if I exposed this to the rigors of stellar radiation and unforgiving vacuum? Comes with complimentary notepad. Recommended for ages 4-8. Small parts inside make it not suitable for small children.

"
"
Das SC-9001 ist ein hochmodernes, eigenständiges Laboratorium. Warst du jemals neugierig zu erfahren was irgendwas geschieht, wenn es in einer 0G Umgebung ist? Oder hast du dir je die wirklich tiefgründigen Fragen gestellt? Wie zum Beispiel was geschieht wenn ich irgendwas der kosmischen Strahlung oder dem unnachgibiegen Vakuum aussetze? Wird mit dem dazugehörigen Notitzblock geliefert. Empfohlen für 4-8 Jährige. Kleinteile im inneren machen es ungeeignet für Kleinkinder.

— Experimental Engineering Group

"
Trivia
Wird dieses Bauteil im Sandbox-modus verwendet, die Nachricht beim Versuch ein Experiment durchzuführen sagt "I don't think we are getting much done here", was so viel heisst wie "Ich glaube nicht das wir hier viel tun können" was sich wohl darauf bezieht, dass im Sandbox-modus keine Wissenschaftspunkte existieren.
Die Nummer 9001 im Namen dürfte einen Referenz an HAL 9000 aus 2001: Odyssee im Weltraum sein. Diese Annahme wird noch verstärkt durch die Nachricht wenn man ein Experiment im hohen Orbit von Jool ausführt. Dazu kommt noch, dass man ein rotes leuchten erkennen kann wenn man bei offener Material Bay nahe heranzoomt.
Änderungen
 

Bemannte Kapseln
Sitze
Sonden
 

Streben, Platten und radiale Elemente
Starthilfen
Stapelbare Elemente
 

Verkleidungen
Frachtraum
Service-Buchten
 

Ruder
Feste Flügel

Bugnasen
Ansaugvorrichtung
 

Fahrwerk und Landestützen
Antriebsräder
 

Sensoren
Labore
Teleskope
Ressource Scanner
Lagerung
 

Lagerung
Equipment
Deployables
 

Kommandomodule
Treibstofftanks
Entkoppler
Separatoren