Category:Probodobodyne Inc/fr
From Kerbal Space Program Wiki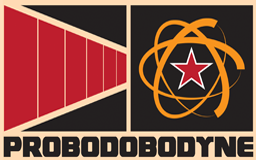 Probodobodyne Inc est un fabricant de pièces de vaisseau, qui produit essentiellement des petites pièces concues pour les sondes ou rover, d'où le nom. Tous les capteurs sont fournis par Probodobodyne, ainsi que tous les panneaux solaires et radiateurs.
Description de l'agence
| | | |
| --- | --- | --- |
| « | Probodobodyne fut à une époque l'un des seuls (et rares) leaders de l'industrie. Cependant, au fil des années, la société ne parvint pas à s'adapter au progrès. Elle reste néanmoins fidèle à sa philosophie comme quoi l'exploration spatiale devrait être le privilège des quelques élus parvenant à surmonter les obstacles se dressant sur leur chemin, et ce, avec une assistance technologique minimale. Leurs produits reflètent cette vision pratique, et quelque peu obsolète, quand bien même d'autres sociétés apparaissent, proposant des alternatives rendant l'exploration spatiale bien plus accessible qu'au "bon vieux temps." Malgré tout, Probodobodyne possède encore des fans certes peu nombreux, mais fidèles, partageant leur vision d'une industrie très sélective peuplée uniquement des meilleurs astronautes et ingénieurs. |  » |
Pages in category "Probodobodyne Inc/fr"
The following 12 pages are in this category, out of 12 total.