Category:Jebediah Kerman's Junkyard and Spacecraft Parts Co/it
From Kerbal Space Program Wiki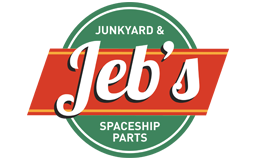 La ditta Sfasciacarrozze e Componenti per Navi Spaziali Jebediah Kerman Co. (Jebediah Kerman's Junkyard and Spacecraft Parts Co., o JKJSP in breve) è la compagnia presumibilmente fondata o quantomeno sponsorizzata dal sensazionale kerbonauta Jebediah Kerman. Nonostante apparentemente svolga le funzioni (o almeno in parte) di sfasciacarrozze, la compagnia ha degli ingegneri nell'organico (almeno stando alla ragione sociale).
E' conosciuta ai più per la sua serie di endoreattori LV e per la serie FL di serbatoi ed adattatori. Questi prodotti dominano la categoria delle parti di diametro radiale 1.25m. JKJSP produce anche la serie di moduli abitativi PPD, prominenti nelle stazioni spaziali.
Descrizione dell'Azienda
«
E' universalmente riconosciuto che lo Sfasciacarrozze di Jeb sia uno dei più fulgidi esempi di irrefrenabile motivazioni dinanzi ad apparentemente insormontabili ostacoli. L'incospicuo sfasciacarrozze dove si dice siano avvenuti i primi passi della Kerbalità verso l'esplorazione dello spazio profondo, è diventato ora uno sfasciacarrozze molto più grande, e ha avuto necessità di espandersi ulteriormente per accogliere la sempre crescente domanda di componenti per navette spaziali. Lo Sfasciacarrozze di Jeb è diventato uno dei nomi più significativi di Kerbin, diventando molto più che un marchio acclamato. Ora è un fiero simbolo dell'inarrestabile natura del Kerbal che lo spinge a tentare l'impossibile sottostimando enormemente la gravità della situazione.

— JKJSP

 »
Pages in category "Jebediah Kerman's Junkyard and Spacecraft Parts Co/it"
The following 6 pages are in this category, out of 6 total.