Category:Jebediah Kerman's Junkyard and Spacecraft Parts Co/fr
From Kerbal Space Program Wiki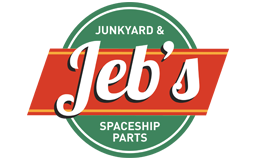 Décharge Jebediah Kerman et Pièces détachées SARL est une société appartenant vraisemblablement au kerbonaute Jebediah Kerman. Bien qu'apparemment fonctionnant (au moins en partie) en tant que décharge, la société emploierait apparemment des ingénieurs (au moins de nom).
Elle est surtout connue pour ses moteurs de fusée de la série LV et pour ses réservoirs et ses adaptateurs de la série FL. Ces produits dominent l'offre de pièces de fusée standard de petite taille. L'entreprise produit également les modules de commande de la série PPD, utiles pour les stations spatiales.
Dernièrement, ils ont commencé à produire des réservoirs de minerai.
Description de l'agence
| | | |
| --- | --- | --- |
| « | La Décharge Jeb est universellement reconnue comme un exemple du triomphe de l'abnégation sans faille face aux obstacles insurmontables. On raconte que c'est depuis cette décharge sans prétention qu'ont eu lieu les premiers pas de la kerbalité vers les profondeurs de l'espace. Aujourd'hui, elle est devenue une décharge de taille considérable, grâce à ses nouvelles installations répondant aux demandes en pleine croissance de composants de vaisseaux. Tout le monde sur Kerbin connaît la Décharge Jeb, devenue bien plus qu'une marque profondément appréciée. Aujourd'hui, elle est le symbole de l'ambition sans fin des kerbals pour réaliser l'impossible tout en sous-estimant totalement la gravité de la situation. |  » |
Pages in category "Jebediah Kerman's Junkyard and Spacecraft Parts Co/fr"
The following 22 pages are in this category, out of 22 total.