Difference between revisions of "Astronaut Complex/ru"
From Kerbal Space Program Wiki
Line 6:
Line 6:
 

Интерфейс ЦНТ представляет собой две колонки. В левой находится список готовых к найму,в правой (во вкладках) - списки нанятых и готовых к полёту, уже находящихся в полёте и погибших космонавтов.

 

Интерфейс ЦНТ представляет собой две колонки. В левой находится список готовых к найму,в правой (во вкладках) - списки нанятых и готовых к полёту, уже находящихся в полёте и погибших космонавтов.

 

Найм производится нажатием на галочку справа от имени космонавта в левой колонке.

 

Найм производится нажатием на галочку справа от имени космонавта в левой колонке.

 
+
---
Revision as of 11:25, 25 July 2013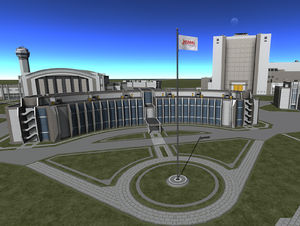 Центр набора космонавтов (далее ЦНТ) - здание Космического центра, позволяющее нанимать космонавтов и просматривать список нанятых, задействованных (находящихся в полёте) и погибших космонавтов. Добавлен в версии 0.21. Предполагается, что ЦНТ станет первым шагом к создающемуся в настоящее время режиму карьеры.
Интерфейс
Интерфейс ЦНТ представляет собой две колонки. В левой находится список готовых к найму,в правой (во вкладках) - списки нанятых и готовых к полёту, уже находящихся в полёте и погибших космонавтов. Найм производится нажатием на галочку справа от имени космонавта в левой колонке. Назначение космонавта пилотом производится в ЗВС или ангаре на вкладке "Manage Crews". Назначить пилота можно любой пилотируемой капсуле.