Category:C7 Aerospace Division/fr
From Kerbal Space Program Wiki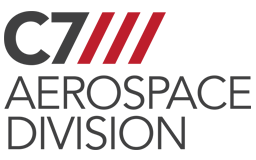 C7 Aérospatial est le fournisseur des pièces spécifiques aux avions spatiaux, qui ont pour la plupart été introduites en version 0.15, en même temps que le Hangar à Avion Spatial. Avant la version 0.24, les majuscules n'étaient pas les mêmes selon les pièces: C7 AeroSpace, C7 Aerospace ou C7 Aerospace division étaient ainsi utilisés.
Description de l'agence
| | | |
| --- | --- | --- |
| « | Pourquoi prendre de l'altitude alors qu'on peut aussi bien s'écraser de manière horizontale : telle est la vieille devise de C7 Aérospatial. Fidèle à ses débuts les plus modestes, le regard du colosse industriel qu'est devenu C7 ne s'est jamais détourné de l'horizon, à tel point que le constructeur a récemment entrepris de fabriquer des pièces lui permettant d'admirer encore plus ce fameux endroit où ciel et terre ne font plus qu'un. Cette décision fut accueillie par quelques grommèlements des plus anciens employés de la société, mais même ces vieux grincheux ne peuvent nier que l'aventure se trouve peu importe la direction que nous empruntons. |  » |
Anecdotes
C7 est le surnom du développeur Squad Chad Jenkins. Vers le 27 juillet 2011, il publia sont mod C7 Aviation Pack. En mars 2012, il passa de moddeur à membre de l'équipe officielle.
Pages in category "C7 Aerospace Division/fr"
The following 37 pages are in this category, out of 37 total.