Category:C7 Aerospace Division
From Kerbal Space Program Wiki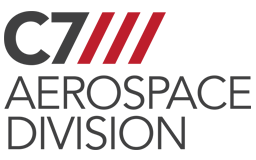 The C7 Aerospace Division is the supplier for spaceplane specific parts, most of which were officially introduced in version 0.15 along with the Spaceplane Hangar. Prior to version 0.24 there were multiple parts which used a different name and capitalizations like C7 AeroSpace, C7 Aerospace or C7 Aerospace division.
Lately they started supplying the KSC with rotor engines for attaching rotor blades.
Agency description
| | | |
| --- | --- | --- |
| " | Why go up when you can crash equally well going sideways – that's the old moto of the C7 Aerospace Division. Emerging from humble beginnings to the powerhouse they are now, C7 were always looking straight ahead towards the horizon. Recently though they have been building parts that can give them a much better view of that spot where the sky meets the ground. This has been met with some grumblings from the old boys in the company but even they can't deny that there is adventure to be found in whatever direction you choose. | " |
Trivia
C7 is the nickname of current Squad developer Chad Jenkins. Around July 27, 2011, he introduced his C7 Aviation Pack mod. In March 2012 he transitioned from mod maker to official team member.
Pages in category "C7 Aerospace Division"
The following 98 pages are in this category, out of 98 total.