Mun/hr
From Kerbal Space Program Wiki
Mun, (alternativno: Mün) je relativno velik Kerbinov prirodni satelit i može ga se smatrati analognim Zemljinom Mjesecu. Sive je boje i prekriven je kraterima različitih veličina, te planinama višim od 5 kilometara. Gravitacijsko ubrzanje na površini, 1.63 m/s², otprilike je 1/6, odnosno za 8.18 m/s² manje od Kerbinovog, i otprilike odgovara Mjesečevom (1.624 m/s²).
Na njega je moguće prizemljiti se ili ga iskoristiti za gravitacijsku praćku za uspostavljanje više orbite, dosezanja Minmusa ili napuštanje Kerbina, unatoč tome što takvi manevri ne štede puno goriva i nisu previše precizni. Međutim, korisni su za promjenu inklinacije ukoliko se iskoriste u pravom trenutku.
Novi bi igrači trebali primijetiti da Mun poput većine nebeskih tijela u igri ne posjeduje atmosferu, što znači da su na njemu padobrani beskorisni.
Na Munu se mogu pronaći anomalne geološke tvorbe. Igrači koji su ih pronašli potiču se na čuvanje njihovih točnih koordinata kako bi se i za druge igrače očuvao užitak istraživanja.
Sinkrona orbita oko Muna nije moguća iz razloga što bi morala postojati na visini od 2 970.58 km, što je izvan Munove sfere utjecaja. Međutim, letjelica položena malo izvan nje, a koja ima istu veliku poluos, činilo bi letjelicu relativno nepokretnom u odnosu na Mun. Normalna orbita na 25 km može se postići uz promjenu brzine od oko 800 m/s. Polusinkrona orbita moguća je na visini od oko 1797.41 kilometara.
Krajolik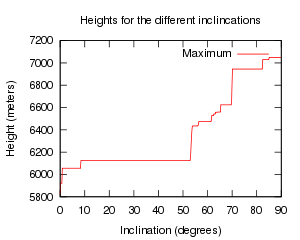 Munov je krajolik grub, siv i izbrazdan kraterima. Nizine su mu uglavnom nešto tamnije od visinskih predjela. Na Munu također ima klisura dugih nekoliko kilometara, a čije dubine mogu iznositi stotine metara.
Najviša točka prelazi 7061 metara i nalazi se kraj južnog pola (82.52° S, 152.33° W). Na toj se visini može uključiti deseterostruko vremensko ubrzanje i tako izazvati sudar s tlom u naizgled stabilnoj orbiti. Najniža točka nalazi se ispod -247 m, jugozapadno od velikog kratera (35.32° N, 76.63° W) na sjevernoj polutci.
Kada je u grafičkim postavkama aktiviran "terrain scatter", na Munovoj površini pojave se stijene. Poput ostalih sličnih objekata, njihova svrha je isključivo kozmetičke prirode jer s njima nisu mogući nikakvi sudari.
Od inačice 0.21, Mun je prekriven proceduralno generiranim udarnim kraterima koji slijetanje čine još težim. Prethodno njima, najniža točka bila je na 0 m, na istočnoj strani velikog kratera (8.27° N, 35.42° E).
- članak se prevodi - - the article is being translated -
The Hell Kraken has been encountered on the mün, with objects being thrown out of kerbin's sphere of influence upon re-loading the vehicle.
The Mun also has several hidden surprises for explorers to find:
Spoiler:
There are three large stone arches. Due to their size they can be spotted easily from a low (<10km) orbit near the equator.
There is a memorial honoring Neil Armstrong, the first man on the moon. It can be found inside one of the largest craters, near the south wall. It is at nearly the same coordinates where Apollo 11 first landed on the moon. It appears as a tiny white dot from low orbit.
There are three monoliths ("Munoliths"). These are very hard to find because of their small size. One is underground, and two are floating inside of two extremely deep pits that go almost straight down.
There are several other secrets on the Mun for the dedicated observer. Look around!
Biomes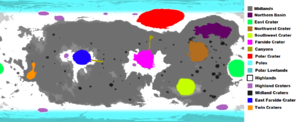 Currently
[outdated]
Mun is one of only three celestial bodies, alongside
Kerbin
and
Minmus
, which has multiple
biomes
in or over which
science
experiments deliver different results. It has even more biomes than Kerbin. Each of the large craters is an individual biome. Then there are midlands- and highlands, which both return different results when inside/over one of the minor craters. The polar regions also have three different biomes. With the biomes the major craters have somewhat official names, although the names appear to be very generic.
The complete list of Mun biomes is:
Midlands
Midland Craters
Highlands
Highland Craters
Canyons
Northern Basin
East Crater
Northwest Crater
Southwest Crater
Farside Crater
Twin Craters
East Farside Craters
Polar Crater
Poles
Polar Lowlands
Observation from Kerbin
The Mun's orbit keeps it directly above Kerbin's equator. Because the Mun is tidally locked to Kerbin with a perfectly circular, non-inclined orbit, exactly 50% of the Mun's surface (excluding areas on the edge obscured by the Mun's mountains) is ever visible from Kerbin.
Due to the Mun's non-inclined orbit, solar eclipses occur every time the Mun goes between the Sun and Kerbin. Due to graphic engine limitations, these solar eclipses currently do not make the sky black, or darken the land. However, solar panels will become blocked by the Mun in an eclipse and become useless for a short period of time.
Observation of Kerbin
Because Mun is tidally locked to Kerbin, Kerbin is only visible from 50% of the Mun's surface, and Kerbin never sets or rises as seen from the Mun. The Mun longitude for which Kerbin remains directly above in the sky (at the zenith) is about 47 degrees east. The Mun's equator is coplanar with Kerbin's, so any location on the Mun's equator that faces Kerbin will also face Kerbin's equator. Kerbin is not tidally locked to the Mun, so any point on the Mun where Kerbin is not obscured by the Mun's landscape will be able to observe every point on Kerbin as Kerbin rotates. Kerbin's synodic rotational period with the Mun is 25617.909 seconds, or 1.18323 Kerbin solar days.
Reference Frames
| Vremensko ubrzanje | Minimalna visina |
| --- | --- |
| 1× | bilo koja |
| 5× | 5 000 m |
| 10× | 5 000 m |
| 50× | 10 000 m |
| 100× | 25 000 m |
| 1 000× | 50 000 m |
| 10 000× | 100 000 m |
| 100 000× | 200 000 m |
Gallery
Screenshot1.png

A successful landing on the Mun with a two-kerbal capsule. This is often a milestone for new players.

Error creating thumbnail: File missing

Four kerbals manning a Mun base
Spoiler: Screenshots of easter eggs
Trivia
Prior to inačica 0.14.2, the tallest points on the munar surface were no higher than roughly 600m.
Mun was Kerbin's, and indeed the game's, very first moon.
After its implementation, many fans began calling the body Mün, pronounced the same as "moon", believing the original spelling to be a mistake. However, several of the game's developers have been heard referring to it as Mun, pronounced "muhn". In the "Surface of the Mün" title screen, a crashed lander resembling a Kerbal X has the words "Mün or Bust" scrawled on the side. Both spellings are generally accepted, however the spelling in-game is Mun.
Mun's orbit is perfectly circular and has zero orbital inclination. Such an orbit in reality would be very unlikely since this would require precise positioning of any dust/bodies that created it during the planetary system's formation, as well as the absence of a central star or other planets.

This was likely done to make it easier to reach for new players.

Before introduction of procedural terrain the Mun's highest point was within 45° latitude of the equator, had an altitude of 2967 m and was located at 129.64° W, 0.97° N, on the north side of a canyon which was on the east edge of a large crater.
Changes
New Procedurally generated craters.
Easter Eggs added (one fixed, one added)
New small art pass.
Notes