Space Station Core
From Kerbal Space Program Wiki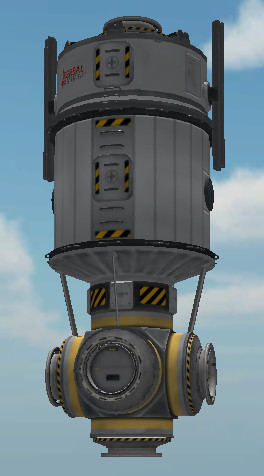 The Space Station Core is a stock craft meant to be the core part of a space station. As it has no any kind of propulsion, it needs a launch vehicle to reach the stable orbit. It features a Mk2 Lander-can and a PPD-10 Hitchhiker Storage Container. It also has numerous docking ports for connecting it to other parts of a space station.
It is externally similar to the DOS-7 Module of the former Mir Space Station.
Craft Description
"
This Space Station Core shows just how ambitious the Kerlington model rocket catalog can be sometimes.
If you can manage to build a rocket capable of getting this into orbit, it is air-tight enough to let a few Kerbals live in it for long periods of time.
It also features a hub with five docking ports, so you can expand your station.

— Squad

"
Trivia
• A similar vessel is shown in the official animated short A Cake Odyssey. The version in the film does not have a reaction wheel between the [Storage Container] and the [Multi-Point Connector]. Additionally, the solar panels are mounted on the connector instead of the [Lander Can].