Comms DTS-M1
From Kerbal Space Program Wiki

The Comms DTS-M1 is a deployable antenna, it is deployed during science data transmission and retracted when transmission is complete.
It is the first unlocked medium sized antenna.
The Comms DTS-M1 also has a "Blink Lights" option in the VAB/SPH, but nobody is actually sure what light this blinks if it blinks any lights.
Product description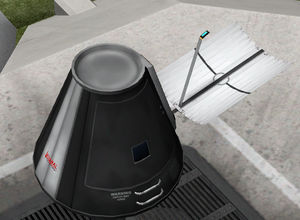 | | | |
| --- | --- | --- |
| " | The DTS-M1 is a fully deployable communications and data transmission system. It has been designed to have a minimal form factor when stowed. Occasional antenna tweaking and swift kicks to the main assembly may be required for optimal performance. | " |
Changes
Cost increased (100 to 600), packet cost decreased (15 to 12.5)
 
Manned pods
Command seats
Probe cores
 
Beams, panels and radial elements
Launch assistance
Stackable elements
 
Fairings
Cargo bays
Service bays
 
Landing gear
Powered wheels
 
Sensors
Labs
Telescopes
Resource scanners
 
Command modules
Fuel tanks
Decouplers
Separators