Communotron DTS-M1
From Kerbal Space Program Wiki
The Communotron DTS-M1 is an antenna, used to connect to CommNet and transmit science. It is deployable, and must be deployed before use.
It is a medium sized antenna, more powerful than the Communotron 16, and weaker than the Communotron HG-55. It is the non-relay version of the RA-2 Relay Antenna.
Product description
"
The Communotron DTS-M1 is a fully deployable communications and data transmission system. It has been designed to have a minimal form factor when stowed. Occasional antenna tweaking and swift kicks to the main assembly may be required for optimal performance.

— Ionic Symphonic Protonic Electronics

"
Usage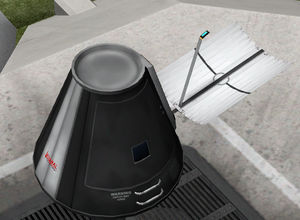 The Communotron DTS-M1 is a medium strength antenna. Its antenna power of 2G is ideal for inner Kerbol system exploration. With a level 2 Tracking Station, a single DTS-M1 can reach Moho, Eve, and Duna if the planets are nearby; with a level 3 station, a DTS-M1 can maintain constant communication from Moho, connect from Eve and Duna most of the time, and even reach Dres on a good day.
Like the Communotron 16, the DTS-M1 must be deployed before use. Once deployed, it can be broken by aero forces, and must be repaired by an Engineer. Transmitting science will automatically deploy the antenna.
Trivia
The Communotron DTS-M1 had a "Flashing Lights" option in the VAB/SPH, but no one was sure which light flashes if any light flashes. As of version 1.11 this option is no longer there..
Changes
Moved tech from Basic Science to Precision Engineering
cost changed from 600 to 900
entryCost changed from 1500 to 4900
Increased mass from 0.03 to 0.05
Moved from Science to Communication
Added CommNet
Cost increased (100 to 600), packet cost decreased (15 to 12.5)
 

Manned pods
Command seats
Probe cores
 

Beams, panels and radial elements
Launch assistance
Stackable elements
 

Fairings
Cargo bays
Service bays
 

Landing gear
Powered wheels
 

Sensors
Labs
Telescopes
Resource scanners
Storages
 

Storages
Equipment
Deployables
 

Command modules
Fuel tanks
Decouplers
Separators